CPhI October 24-26, 2023 in Barcelona.
Thanks to the many interested visitors with very interesting requests, the CPhI in Barcelona was again a great success for EMCM.
We pair our expertise with the vision of the visitor to support opportunities and bring their innovations to the market.
Do you also have a special request? We look forward to working together with you to see how we can support your opportunities.
EMCM, in collaboration with Osteo-Pharma, recently inaugurated a dedicated hormone processing facility.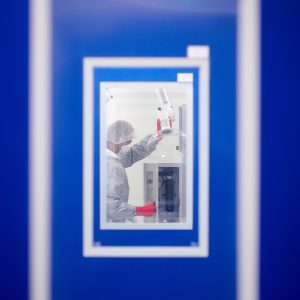 EMCM has developed a resorbable collagenous membrane for dental and periodontal applications for an important player in the dental market. The membrane functions as a barrier between soft and hard tissue to support Guided Bone Generation and Guided Tissue Generation surgical techniques to direct growth of bone or gingival tissue. The starting material is derived from an animal source and is processed into a decellularised and delipidised membrane using Leader Biomedical proprietary eCOO® Technology which employs supercritical carbon dioxide (scCO2) for the effective removal of unwanted substances. The multi-staged manufacturing process has been validated and regular production batches have been manufactured for European markets. The manufacturing process aims to preserve the natural porous and interconnected structure of the native tissue.
Recently, EMCM and Leader Biomedical initiated a collaboration focusing on Design & Development for a similar device aiming for US FDA registration of NovoMem using the 510(k) regulatory pathway based on substantial equivalence to predicate devices.
NovoMem
Currently under development for Leader Biomedical, NovoMem is an acellular, resorbable collagen membrane. This membrane is produced from porcine pericardium and processed with our proprietary eCOO® Clean process, which uses supercritical carbon dioxide (scCO2) to clean human and animal derived bone and soft tissue. NovoMem is designed to function as a cell occlusive barrier membrane for dental applications.
The membrane is intended for use during guided bone regeneration (GBR) and guided tissue regeneration (GTR) procedures as a biodegradable barrier for:
Simultaneous use with implants
Augmentation around implants placed in immediate extraction sockets
Augmentation around implants placed in delayed extraction sockets
Localised ridge augmentation for later implantation
Alveolar ridge reconstruction for prosthetic treatment
Filling of bone defects after root resection, cystectomy, removal of retained teeth
Guided bone regeneration in dehiscence defects
Guided tissue regeneration in periodontal defects
Project for a Dutch life sciences company
For an other customer EMCM will impregnate (spray-coat) an identical eCOO® processed membrane with pharmaceutical active ingredients, such as a hormone, in a newly built facility.
The impregnated membrane will be used in both dental and orthopedic applications.
The newly built facility has a different pressure regime and building structure and is separated from EMCM's other activities.
Therefore it is suited to work with small amounts of hormones.
EMCM has implemented an FDA compliant ampoule filling manufacturing process. The project is a finish-fill project for a US based company. The to-be handled bulk is a volatile liquid. Due to EMCM's experience in the handling of volatile liquids, we have been able to adapt this into a safe process in our qualified production areas. To implement the manufacturing we have carried out a pilot batch and this is subsequently transferred into a GMP batch. The scope of the project also includes the validation of analytical test methods that are required for the release of the product.
Our client increased the forecast of the product 2 fold on short notice. To successfully pull off the execution, EMCM played a significant role in designing, testing and implementing an upscaled production process which could cater to the increased demand primarily by targeting 3 areas: Increasing the yield /batch, reducing the risk of contamination & reducing manual operations. The production is executed in an aseptic environment, by incorporating a closed system (bulk production). The scope of the project also included supporting the processes development with the relevant regulatory and qualification documentation and filing changes in the product dossier. EMCM's knowledge of aseptic manufacturing processes, ability to quickly respond to change in demand, project management – from design, testing, implementation and approvals at notified body played a significant role in catering to the increased demand on short notice.